Ondorse raises a 3.8M euro seed round to accelerate its business identity solution's growth and European expansion.
Identifying and onboarding businesses is a broken experience.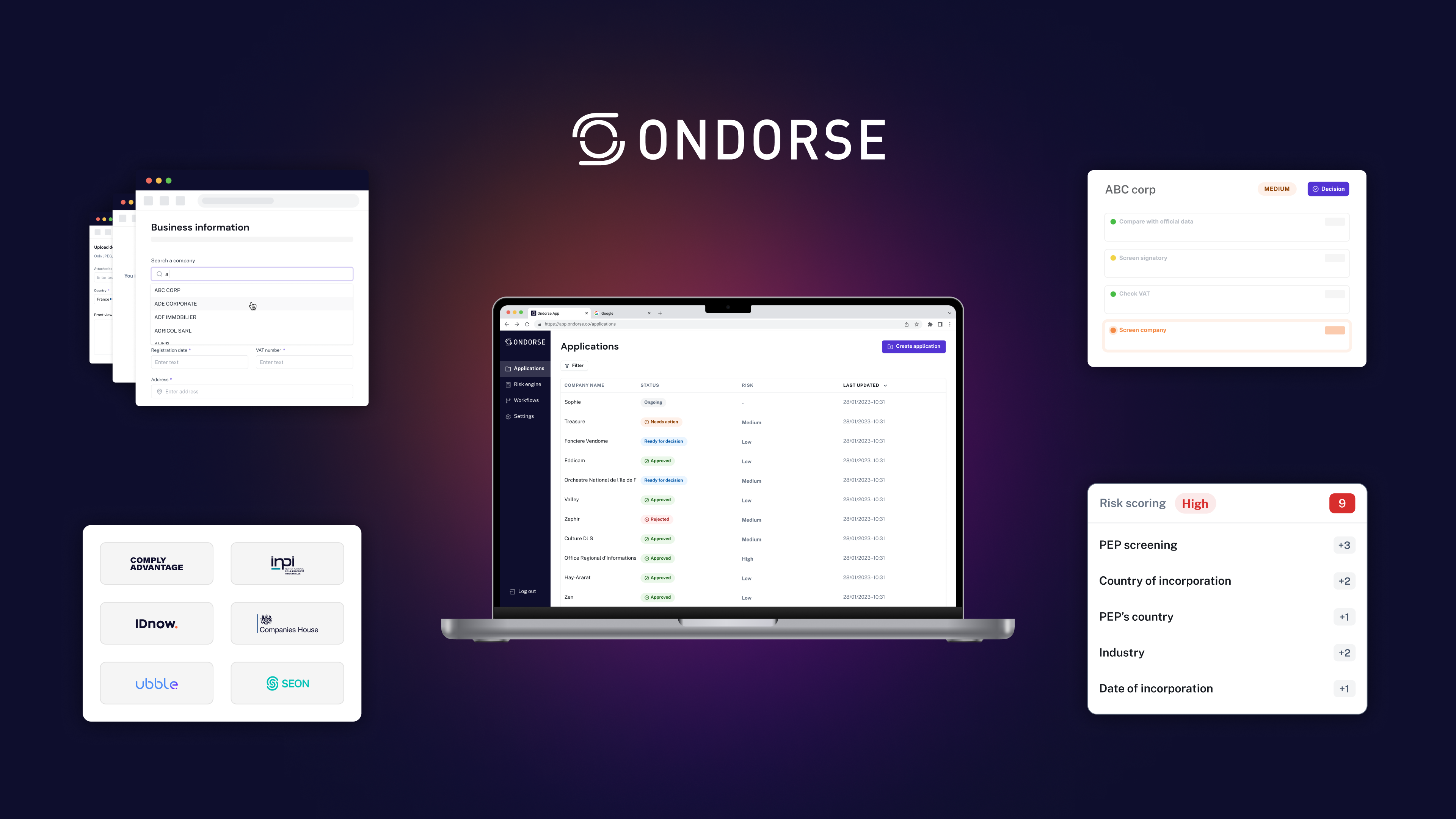 Ondorse, a business KYC solution, has raised a 3.8M euro seed round led by existing pre-seed investors Eurazeo and ISAI with the participation of leading angel investors from Stripe, iBanfirst and Qonto. Since its launch in May 2022, Ondorse has verified over 10,000 businesses. The Ondorse platform is used by fintechs such as Alan, Evy and Piana.
We started building Ondorse from our experience when we realised compliance officers and customer success teams were the unsung heroes of the fintech revolution", says Florent Robert, co-founder, CEO of Ondorse. "We automate onboarding and compliance tasks so that teams can focus on the work that truly needs a human touch.
While finance is shifting towards real-time data and processes, issues related to identity verification have been holding back the fintech space, particularly in the B2B field", says Aymeric Boëlle, co-founder, President of Ondorse. "We are excited to build Ondorse so that our customers can focus on their core business while onboarding new businesses faster.
Global regulators enforced more than $5 billion in AML fines in 2022. At the same time, missing good customers is costly. 40% of customers abandon a 10-minute or longer application process, leading to an estimated $3.3 trillion in lost revenues in 2019 for application abandonment.
Many industries are facing heavier compliance processes and costs, more specifically in the financial industry", says William Vermont, principal at ISAI. "Ondorse is on track to smooth and optimise the onboarding of various stakeholders on behalf of their clients. The ROI is such that a solution like Ondorse appeared to us to be in phase with future trends.
We have witnessed first-hand the pain of scaling fintechs in Europe. The multiplicity of regulations and data sources to manage across various countries has been a challenge for fintechs crossing borders. We are excited to continue supporting Ondorse as they expand to more customers in Europe. says Nicolas Debock, Managing Director at Eurazeo.
Ondorse is already used to manage compliance workflows at scale. With the launch of its intelligent onboarding form and risk-scoring engine, it now covers the entire customer journey. Some Ondorse customers have reached up to 60% of automated business account openings and reduced manual repetitive tasks.
Our ops team guarantees the delivery at scale of our insurance and healthcare products. And we scale at a fast pace", says Margaux D., Operations at Alan. "Ondorse's software has helped us build our KYB processes and run them very efficiently so that we can keep delivering a delightful experience to our clients and members while scaling rapidly.
Ondorse will use this additional funding to accelerate the development of its platform, increase its workforce and further develop its European footprint.